D
I
R
T
P
A
L
A
C
E
OCTOBER 2017.... WITCHES <|;^D
---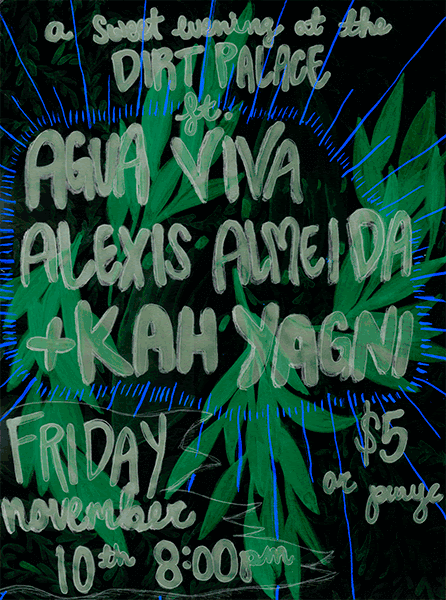 ---
Come join us

Friday, November 10th

for some post-spook sweet fall tunes. Performances by Providence locals Kah Yangni
and
Alexis Almeida
and a very special (and rare!) set by Buenos Aires performer,
Agua Viva
. This event is not to be missed! byo fernet and yr crush and be ready to swooooon ♡
D.S. Kinsel is an award winning creative entrepreneur and cultural agitator. He expresses his creativity through the mediums of painting, window display, installation, curating, Action-Painting, Non-Traditional Performance And #HASHTAGS. Kinsel's Work Puts Focus On Themes Of Space Keeping, Urban Tradition, Hip-hop, Informalism And Cultural Re-Appropriation. D.S. Has Served Creative Residencies at Most Wanted Fine Art, Artist Image Resource, The Homewood Residency Program, Kelly Strayhorn Theater/Pittsburgh Public Schools Summer Dreamers Academy, Carnegie Mellon University Digital Arts Studio, AS220 and the Sedona Summer Artist Colony. He is the curator of #ACTIVISTprint, a collaborative public art program of The Andy Warhol Museum and also serves as the Penn Avenue Creative Residency Coordinator at the Kelly Strayhorn Theater.
D.S. is the co-founder Of Boom Concepts, A Creative Hub dedicated to the advancement of black and brown artists representing marginalized communities. BOOM Concepts is located in Pittsburgh and is funded by The Heinz Endowments and The Pittsburgh Foundation. BOOM Concepts focuses on youth, Community Artists, neighborhood partners to identify contemporary expressions Of social justice through drama, dance, music, visual art, and technology. D.S is a board member of Pittsburgh Center for Creative REuse, And serves On the advisory board For The Heinz Endowments Transformative Arts Process. A former AmeriCorps Public Ally member, D.S. Has Also Been Recognized As An Awardee of the Pittsburgh Courier Fab 40, Pittsburgh Magazine PUMP 40 Under 40, Pgh Tech Council Creative of The Year, and the Pittsburgh Post Gazette's "Top Ten People To Meet in 2016".
For the past two years, Kinsel has been developing an open source public art project called #hashtagsAREtheNEWprotestSIGNS that exists in public dialogue and the digital space. It has been presented at PearlArts Studios, The Wix Lounge NYC, Youth Leading Change Symposium: The State of Our Union, Creative Mornings PGH, Pittsburgh Tech Council's CREATE Festival, and the 2016 Allied Media Conference.


SEPTEMBER WINDOW ARTIST: ANNELI SANAYE HENRIKSSON
Anneli Sanaye Henriksson was born in 1991 in Santa Cruz, CA. In 2015 she received her BFA in Fiber and Material Studies at the School of the Art Institute of Chicago. Henriksson has exhibited her zines, artist books, and weavings internationally, organized art and music shows at DIY spaces in Chicago and was a noise guitarist in a faux marxist art punk band. She recently completed a 2 year project hand embroidering the album art for Gel Set's Body Copy (which is now available to purchase digitally, as a record, tape and/or CD online or at retailers all over the world!). Upcoming projects include tabeling at the Chicago Art Book Fair, buying a 8-harness floor loom and completing an obsessive art book about Strawberry Switchblade. Henriksson currently lives and works in Chicago, IL.


"

No Grids No Masters" began as the title of a series of drawings and collages inspired by Barbara Kasten and Anni Albers. The series was published as a zine, titled "No Grids No Masters: Drawings About Thinking About Weaving", for the Los Angeles Art Book Fair 2016 for the Chicago Print Collective, alias CPD (Chicago Print Department.)
My next step was to make weavings of my drawings. I translated the images into a weave draft via a grid structure. My drawings about weaving became weavings.
I would like to make another zine, which includes images of my original weaving drawings, images of the weavings and weave drafts.
---
---
NEW MEMBER!!!! ....
DANA HENG

Dana has been cranking out papier-mâché
piñatas as soon as she stepped foot into the palace on the first of October. Her
Libra bat piñata
appeared at Aurora Providence during Runnin Thru the 401 Dance Party, and her
5-foot tall Christopher Columbus
was beheaded at this year's
Pronk
. She also made an unplayable chess set for The Chess Show, which popped up for a short time at 186 Carpenter. Dana can also be found organizing larger scale installations/dance parties with the Ice Floe Collective (Halloween event linked
HERE
), collaborating with activist organizations (i.e.
Direct Action for Rights and Equality
), quilting with
Dearly Beloved
, orchestrating big dinner parties, and creating space for people of color to thrive.
Find her on Instagram @bitter_mel0n
O HORVATH
O lives every day like it's Halloween.
XANDER MARRO
Xander is deep in the grind working on the Wedding Cake House. Other than attempting to feed herself enough to keep up with the dietary demands of physical labor, and doing all of the laundry and bathing involved with working in a filth zone, she's been into drawing and reading. She's combined these adventures into a new Instagram account, which doesn't seem like a soul suck
yet
...check it out
@fataleggs
and it's supposed to be fatal eggs, not fata leggs - a probably obscure reference to a Bulgakov sci-fi story with snakes - Because drawing snakes is still the most fun.
SARA WINTZ
Sara is working on a new chapbook called
Not About Kareem
and is in the midst of reading Jasper Bernes's
The Work of Art in the Age of Deindustrialization
(Stanford University Press, 2017) alongside everything ever written by Diane Wakoski. She blogs daily at The Poetry Foundation's website,
Harriet
, and would love to write for your publication too. Learn more about her
here
.
CLAIRE MACON
Claire is a temporary resident at the DP til mid November.
She is a musician, writer, and self-identified messy water sign new to Providence originally from Atlanta by way of many places. She spends most of her time working on her truck, going dancing, and checking her email. She is currently working on a zine (to be released january 2018??) and a solo project she's unsure will ever see the public eye.
She has a complicated relationship with the internet but feel free to follow her on twitter / insta ( @cosmic_brat / @eclairemacon) her shit is all on private but yr welcome to request a follow ;) You can also email her at
eclairemacon@gmail.com
to see more of her art, gossip, and send her pictures of different shades of blue.
Collaborative video with artist Coral Short was in the Hyperpavillion at the Venice Biennale as part of the work presented by the ALN|NT2 collective
In keeping with the theme of dwelling in the past..... the 2011 Worms in Women and Cattle, Sick Road album was released on Annihilvs. You can buy off Pippi's website
HERE
, or from the
label.
Thanks to Nicki Sneakers MMVII for posting these great photos from the Rectrix / Alberich show at Nothing Changes
MEGAN MANOWITZ
Megan is on the road right now with Girlpool and Palm!
She just had a chapbook published called A Stick With A Rock On It that you can buy now from txtbooks or by asking her for one if you see her IRL ::::
http://www.txtbooks.us/stick_with_rock
NINA RUELLE
Last winter, Nina hit the road and headed down to North Carolina. She spent a couple months working as a studio assistant at the Penland School of Crafts and then headed west, where she spent time in Nebraska at Art Farm. By September, she'd bounced back into Providence, where she's been lending a hand over at the WCH and learning metal-smithing at the Steel Yard. Since getting back to Providence, she's put on two shows -- "That Wide Red Door Just There" at
159 Sutton St
, a show of works made in collaboration with CJ Hill, and "The Chess Show" at 186 Carpenter St, a show of chess sets by artists from near and far. She'll be leaving Dirt Palace again soon to head to a residency in upstate New York -- but has a feeling that she'll be back again before long.
MONTHLY PICTORIAL TREAT FROM THE DUSTY SHELVES OF THE DIRT PALACE
FURTHERING THE QUEST TO SPREAD FUN
LIKE GIN AND JUICE, MOSTLY GIN

New to the library!!! STOKED zine printed by Anneli Sanaye Henriksson in her time with us doing a mini residency at the Dirt Palace.
"Stoked" is a two color, 32 page offset and screenprinted zine featuring a collection of artworks made by Anneli Henriksson from 2009-2017. A playlist of songs referenced by the artist is printed on the inside cover of the zine. Edition of 100.
1. Speak Now or Forever Hold Your Peace - Cheap Trick
2. Teenage Lobotomy - Ramones
3. Die By the Sword - Slayer
5. Over the Edge - Wipers
6. Can't Help Falling in Love - Dead Moon
7. Babelogue - Patti Smith
10. I'll Never Say Never to Always - Charles Manson
11. Never Learn Not to Love - The Beach Boys
12. I love You - Black Flag
13. Telepathic Love - Wipers