Applications for Winter residency opportunities are live!!!!
Find info on the residencies offered and how to apply
HERE



YOUTH WORKSHOPS


AT THE WEDDING CAKE HOUSE
Animation by Sam Shorr on the Gif-o-Graph (with vintage WCH Wallpaper!!)
KIDS WORKSHOPS! WORDS! PICTURES! SOUNDS!
---
Next Week at the Wedding Cake House, we're about to embark on a test residency for families!!!
We're super excited! As part of this we will be hosting a series of youth workshops that are free & open to the public on a first come first serve
RSVP basis
.
Workshops will be held on the Wedding Cake House lawn (though we will have rain plans) and are geared to
kids between 9 & 12 years old
(slightly older/younger = ok).
July 13th-16th
Workshops will be between 1:30 & 4pm
and the line up is looking like it will be:
Wed July 13th: Shadow Boxes with Natasha Brennan
Thursday July 14th: Wild Sounds with Kai Van Vlack
Friday July 15th: Animation with the GIF-O-Graph team
Saturday July 16th: Persona Poem workshop with Charlotte Abotsi.
Keep an eye on the Wedding Cake House instagram (@Weddingcakehouse_residencies) for more info, or email us at weddingcakehouseresidencies@gmail.com
---
---
WINDOW


NEW INTERVIEW WITH STOREFRONT WINDOW ARTIST CAITLIN CALI!!!

New Interview with Storefront Window Gallery Artist Caitlin Cali is up on our blog!!!
Writer Sara Wintz speaks with Cali about her work and installation

Check it out HERE



---

JUNE - JULY WINDOW ARTIST:

CAITLIN CALI



Caitlin Cali has been living in Providence for 12 years, and in that time she has been a mentor and teacher at wonderful places like New Urban Arts and AS220 Youth and she has worked a million different other jobs too. Lately she draws and paints and just started making some etchings. She lives with sweet earth angel cats. She makes art about the dark side and how it makes everything you love so special and precious and hilarious.




____________________________________



Storefront Window Gallery Projects are made possible in part through support from the City of Providence Arts Culture Tourism Department.
UPDATES ************

FROM THE PEOPLE OF THE PALACE!!

Hi Internet World! What a sweet summer it has been so far- my barista job unionized (yay for all us seven stars employees!) (Thimble the cat showing solidarity below). I made some t-shirts and some other things and I'm planning on making even more. The City Arts spring session wrapped up awesomely and I'm teaching with them again for summer camp- hooray! H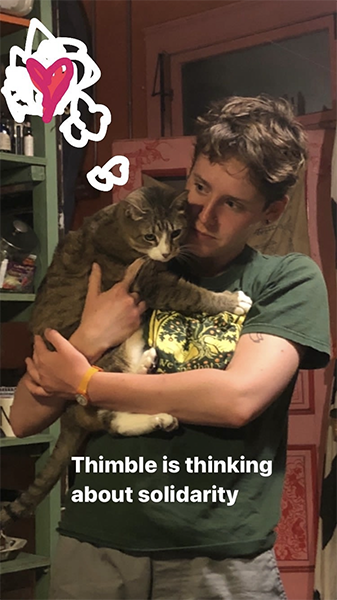 ELLEN (LN) FOSTER

June was too much working and not enough swimming. Here's to July + August being more about swimming. Over the past few months, I did try out the letterpress, play a noise fest, DJ a wedding, and figure out how to hook up the subs to the PA for a dance party.

Honored to have played the 10th installment of Savage Weekend. Check out this beautiful flyer Ryan Martin made for Savage Weekend X @ one of my fave places to play, the Nightlight <3




Wall Wymyn has a show in Philadelphia coming up on July 12th. It has been feeling good to get back into our collaborative sound practice. Flyer by Gladys Harlow [streetrat].




A few other Celestine solo performances are in the works. One at AS220 for Wendy Hyatt's (The Suicide Magnets) birthday on July 26th will be fun. Flyer by Wendy





Hit me up to go swimming and blading as much as possible while the days are long.



KAI VAN VLACK
Hello sweet friends. I contributed vocals, electronics, and writing to a benefit compilation and zine, "Felony For Existing", out on Middle-Man Records. Funds generated by the compilation are donated to transgender mutual aid funds and indiviual trans people's gofundmes. The track I contributed to, "Crater to Darn", is my attempt to make sense out of the combination of grief, anger, and mortal terror that I felt after the suicide of a transgender child in the family of someone close to me and my sense of hopelessness in a social apparatus that offers only conditional support to people for whom that support is a matter of life or death.




My next performance will be on July 9th in Brooklyn, NY at Gold Sounds Bar with Seed (MA), Rong (MA), and Strega Nona (NY)




No recs other than my band's album "The Branches on Either Side" which was released last month on Middle-Man Records and Zegema Beach records. CDs are still available and LPs are forthcoming. It would mean the world to me if you gave it a listen.


A Six-Panel Public Art Installation at Sarto
Taking out-door seating to a new level, YSANEL's hand-painted depictions of scenes in Providence from day to night have been up since the beginning of June. Take a look yourself - you can see them at 86 Dorrance St, Providence, RI.

Check out her TikTok process video!


New Chalk Mural at CIC Providence!
As an addition to one of their many creative networking events, CIC Providence and Venture Cafe have teamed up to commission YSANEL for a chalk mural space transformation in their upstairs lounge/ co-working area. This mural is interactive and invites people to write in the word bubbles and buildings with chalk overtime. Check it out in person at 225 Dyer St, Providence, RI.

Read Press
Watch Process TikTok Video
Watch Time Lapse Video

UPCOMING EXHIBITIONS
+ ART MARKETS:


Waterfire's first ever Accelerate Cohort of 5 local artists, including YSANEL, Julio Berroa, OZMA, Jared Winslow and Sydney Sousa, will be showcasing work in collaboration at the WaterFire Arts Center for an exhibition they've named, "This Must Be The Place". The opening reception is Thursday, June 30th from 6-9pm. Your invited:


An international + inclusive space and organization for BIPOC artists and creatives located in Worcester, MA called El Salon is co-curating a show with Co-Arts Gallery at Revival Brewery in the first week of July. Come check out what YSANEL and all of the incredible artists will showcase!


There will be many artists and vendors at this event, including YSANEL selling exclusive artwork and merchandise! Hope to see you there!




JOSEPHINE DEVANBU



"The Situation" Carved Bar of Ivory Soap, 2022




XANDER MARRO

CLEANING. PACKING. REARRANGING.
A FORM, SORT OF ABOUT THIS CHANGE,
AND OTHER THINGS. CLICK HERE

HARPY (GYNA BOOTLEG + RECTRIX) will be playing Fuck the Fourth Fest this Sunday... 6:30pm at the main stage?
Fest is 3p - 1am at AS220
get tickets at fuckthefourth.com



Then RECTRIX will be performing at Summer Scum 7!!
July 22nd and 23rd @ TV EYE in Queens!!!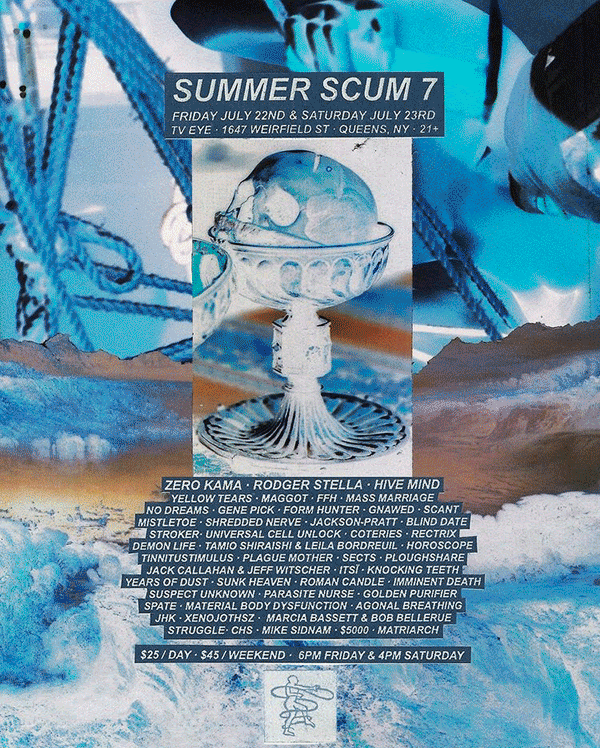 ******************************
LIBRARY HI-LITES!
MONTHLY PICTORIAL TREAT FROM THE DUSTY SHELVES OF THE DIRT PALACE

FURTHERING THE QUEST TO SPREAD FUN LIKE GIN AND JUICE, MOSTLY GIN
CHECK IT OUT a binder of documentation of an artist project celebrating the Summer Solstice in 1977! People, in the olde days this is what you'd have to do to manage a grant from the Parks Department (because there was no Department of Art Culture & Tourism)! Slides, cashed checks, a handwritten accounting ledger, newspaper clippings, typed memos!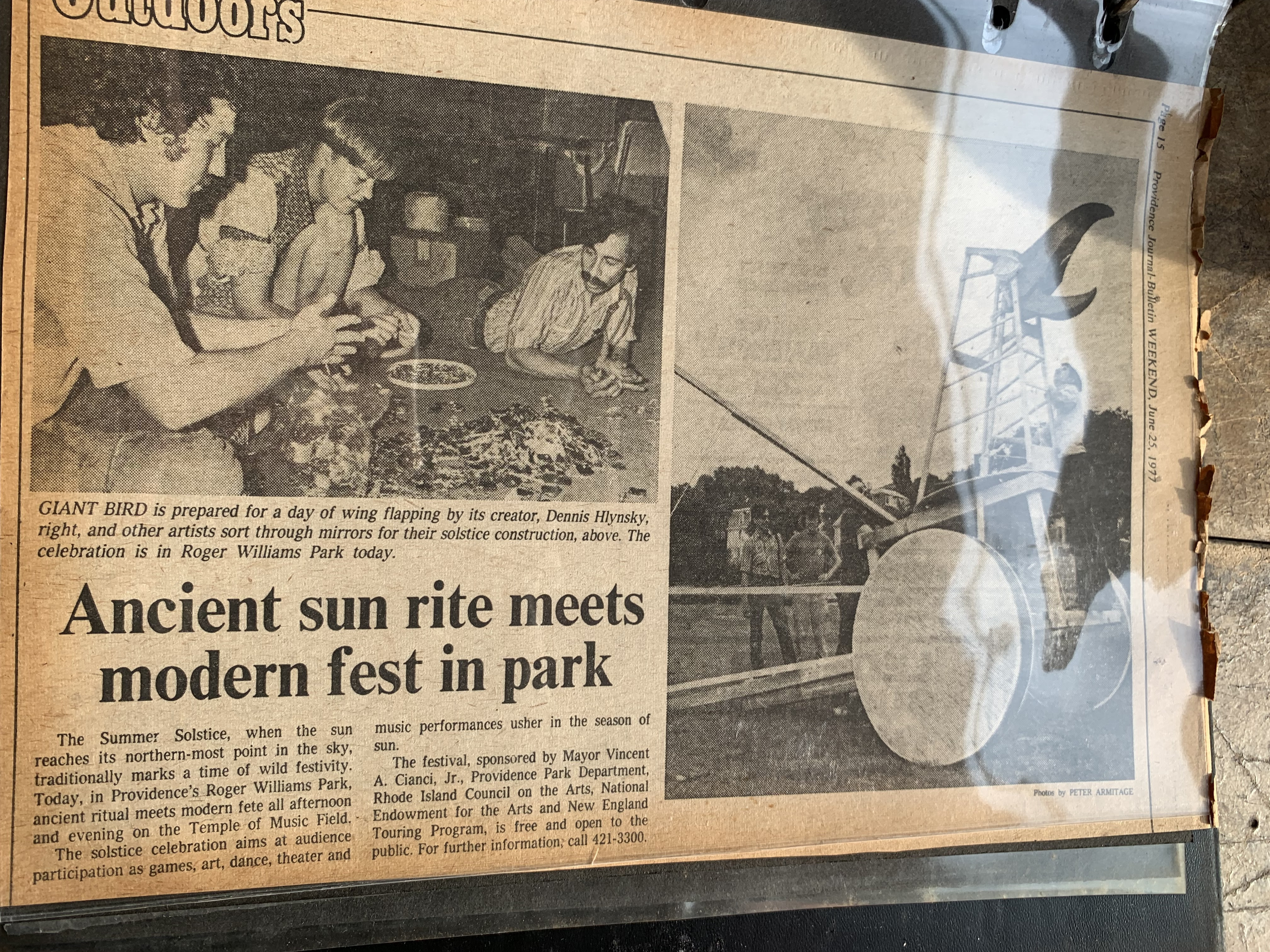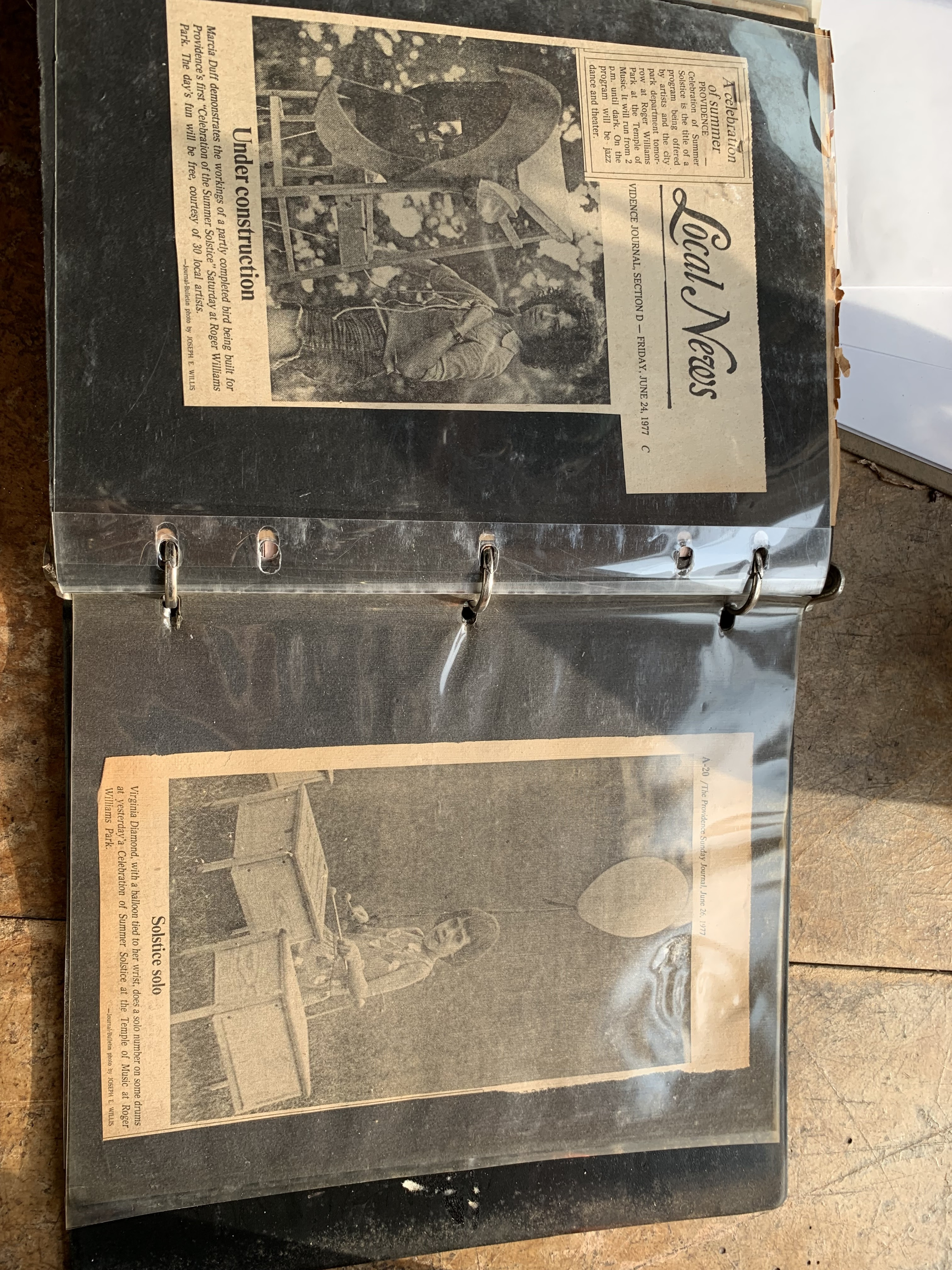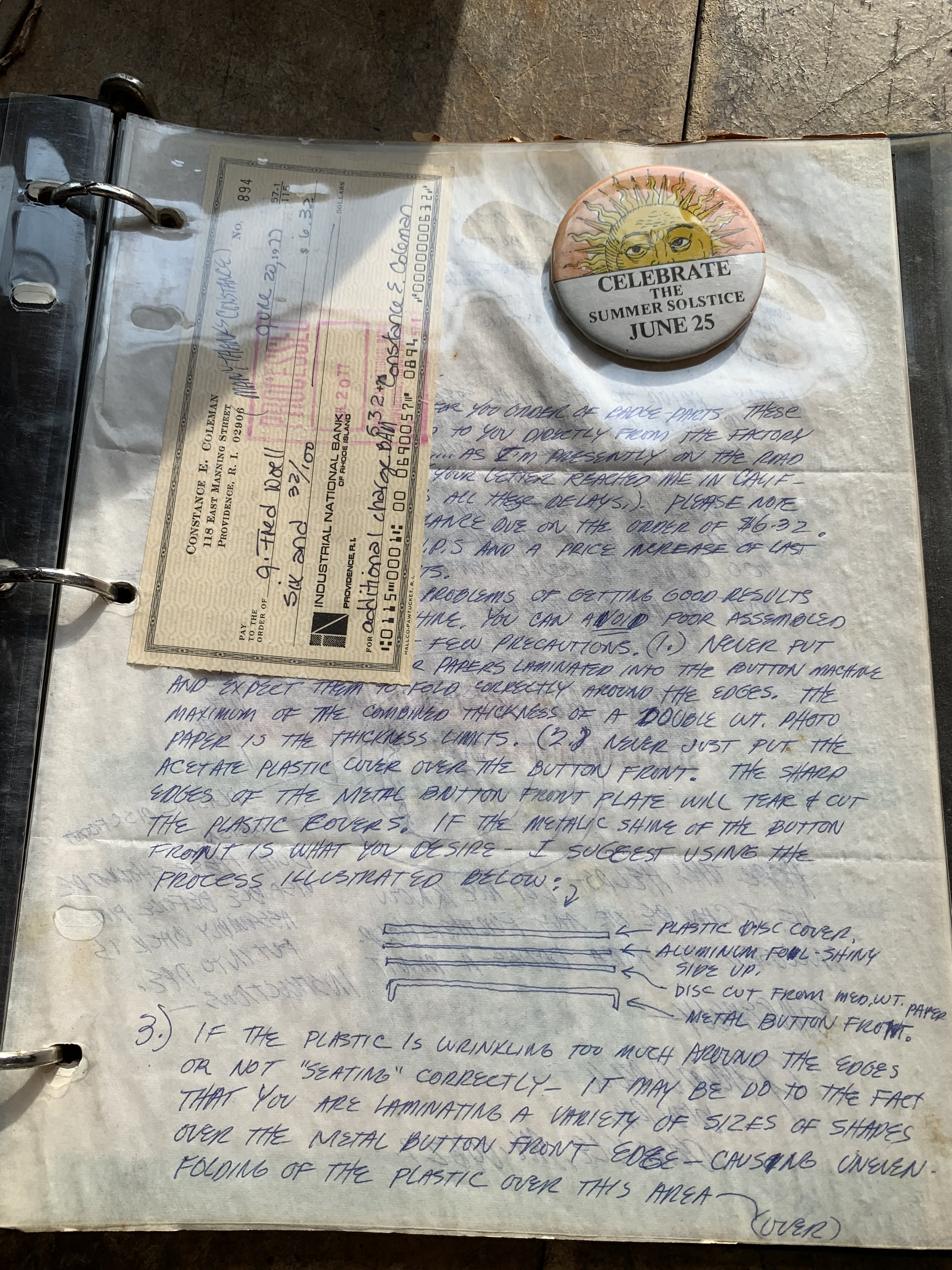 ******************************
BULLETIN BOARD
******************************
GO OUTSIDE!
***************************
****************************